With so many dental care products on the market today, how can you know which ones to use? At Smilepod our dentists and dental team will happily recommend the right products for you.
Read on to discover some useful facts from our dentists which will help you choose.
Smilepod Soho Manager Angi looks at some popular mouthwash options.
Angi is a trained dental nurse who runs our Soho Smilepod Studio in the heart of Central London.
Angi is fluent in English and Hungarian and is passionate about providing high quality dental care. If you stop by the studio, Angi would be more than happy to advise you on the best dental products for keeping your teeth and gums healthy.
If you are cavity prone:
Prevent cavities using mouthwash containing fluoride. Fluoride is a mineral naturally found in water and soil which coats the teeth with a protective film that strengthens tooth enamel. It helps to make your teeth stronger and more resistant to decay.
Fluoride is the only mouthwash ingredient that has been proven to prevent cavities. But it doesn't protect against gum disease. Unfortunately, antibacterial ingredients are not compatible with fluoride so it's not possible to have an 'all-in-one' mouthwash.
One very effective fluoride mouthwash, recommended by our Smilepod Dentists, is Fluoriguard (in its alcohol free version).
If you have gingivitis or periodontitis:
Fight gingivitis-causing germs with a prescription mouthwash.
Clinical trials have shown that chlorhexidine, the active ingredient in prescription mouthwashes, has much stronger antibacterial properties than the ingredients in over-the-counter brands such as Corsodyl or Curasept.
Note: Chlorhexidine can stain teeth, so it's only recommended for short courses of treatment. Your Smilepod dentist will advise you on how long to use it for, which is generally for up to three weeks.
If your teeth do stain from using this product, don't worry. Any staining can be removed by a thorough clean at one of our London Smilepod Studios. Ask for our High Gloss Diamond Polish cleaning treatment which will leave your teeth sparkling.
If you have irritated gums:
Stop the spread of infection. Colgate's Peroxyl mouthwash is available at all our Smilepod Studios. This type of mouthwash contains an active ingredient called Hydrogen Peroxide which is good for stopping the spread of infection.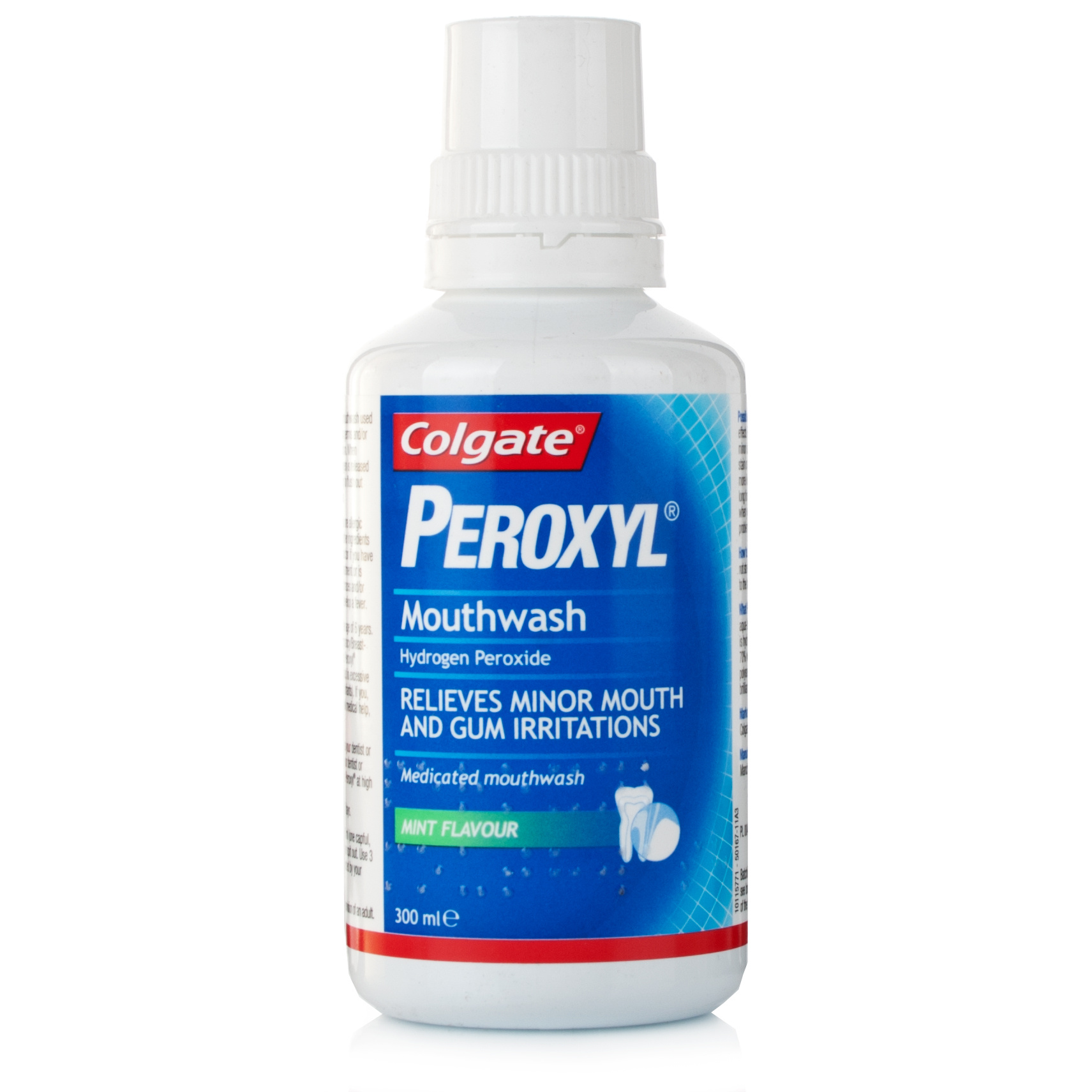 When Peroxyl comes into contact with mouth tissue, oxygen is released in a bubbling action which provides mechanical cleansing to flush out mouth debris and help with the relief of oral irritation.
Your dentist will advise you on the length of time for treatment, but generally it should not exceed two weeks. If you are unsure, pop into one of the Smilepod Studios where we can advise you further.
If you are concerned about bad breath or gum disease:
We all know bad breath can be embarrassing and when it comes to gum disease, prevention is better than cure. If you have any concerns, a good solution is an antibacterial formula which will fight bad breath, plaque and gingivitis.
Listerine, Corsodyl Daily and other products that contain thymol, eucalyptol, methyl salicylate, and menthol are the only over-the-counter antibacterial mouthwashes which effectively reduce gum disease and plaque.
Antibacterial formulas can reduce the bacteria count in the mouth by an average of 75% and many of these mouthwashes are available in pharmacies as well as our London Smilepod Studios.
We recommend that you regularly use mouthwash to maintain good oral health.
Book an appointment at smilepod